Henry Howitt was born on the 6 May 1838, the son of Edward Howitt (1809-1896) and Charlotte Myers (1801-1888), who were married at St Peter's in Eastgate, Lincoln, England on the 22 June 1837. Henry was baptized on the 3 June 1838 at St Martin's Church, Lincoln, England. He had a brother Charles who was born in Lincoln in 1841. The family emigrated to South Australia in about 1851.
Between 1856 and 1860 Henry taught in South Australian public schools at Woodside, Blakiston, Golden Grove and Gilbert Street, Adelaide.
He was made a Deacon by Bishop Short on the 1 July 1865 and served as Assistant Curate at Melrose and then from 1866-1868 at Strathalbyn. As a Deacon he could not be the Rector of a parish so the plaque in Christ Church which lists the Rectors should not imply that Henry Howitt was the first Rector.
He was ordained Priest by Bishop Short on the 11 June 1868 and was Assistant Curate at St Paul's, Pulteney Street, Adelaide. He was then Incumbent of St Peter's, Robe from November 1870, Burra from 1875 and Semaphore from 1885 until he had to resign in 1886 as the result of ill health.
His obituary in the "Sausalito News" on the 10 June 1922 described his ministry in South Australia: "To visit the sick, to bury the dead, to marry man and wife, baptize a child, or hold Sunday service, often meant at that time to ride a horse for many miles in any weather through "the bush" from one sheep station to the next; and Howitt's was an active duty, well performed."
While he was in Robe, on the 1 June 1871, he married Adaliza Ann Gower (1820-1898) the sister of the Rev'd John Gower who was the Incumbent of Blakiston, Ballhanah and Mt Barker  from 1874 until 1899. Adaliza died on the 11 December 1898 and was buried at Blakiston.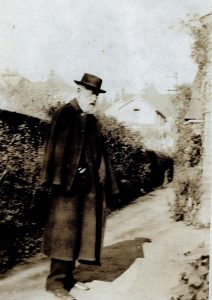 At about this time Henry Howitt moved to California and after ministering at Sonora and then St John's Church, San Francisco he became the pioneer priest in the village of Mill Valley. He was the Rector of the Church of Our Saviour, Mill Valley, California for thirty years and rector emeritus for another five. He died on the 1 May 1922 at St Luke's Hospital, San Francisco after a short illness.
He had made a lasting impression upon the people of the parish of Mill Valley and also remembered his earlier ministry in South Australia, bequeathing his library of over four thousand volumes for the use of students in the Diocese of Adelaide.