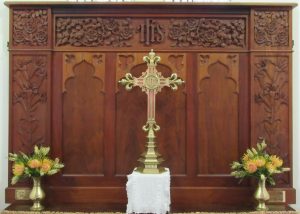 HANDSOME WOOD CARVING.,
Lady Stirling has arranged to present to the Anglican Church at Strathalbyn a handsome hand-carved reredos, and the task of executing the piece has just been completed by Miss Blanche Francis, of Pirie Chambers, Pirie-street. Miss Francis not only carved the piece, but was responsible for the design as well, and in both respects the work reflects the utmost credit on her. The wood employed is a nicely grained walnut, and the design is bold in conception and attractively carried out. The top piece design is in conventional roses, with side panels of St Joseph lillies. The whole work is a distinct credit to its author, and will be a valuable addition to the ornamentation of the church.
"Advertiser" Monday 3 November 1913, page 14
A Memorial to Lady Milne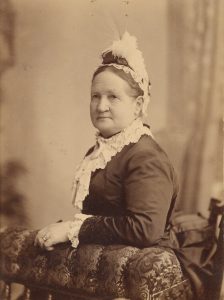 This fine example of woodcarving is a memorial to Lady Stirling's mother as is shown by the brass plaque fixed at the bottom left-hand corner of the reredos. It reads, "To the Glory of God and in Devoted Memory of Eliza Milne. 1818-1912"
Born Eliza Disher in Carrington, Scotland on the 5 June 1818 she had arrived in South Australia with her family on the Palmyra in October 1839 and they settled at Nairne. By a coincidence her future husband, William Milne also arrived on the Palmyra at that time, although he travelled alone. Eliza and William were married at Holy Trinity Church, North Terrace Adelaide on the 4 March 1842. Lady Stirling, born Florence Marion Milne was one of seven daughters and four sons born to the Milnes.
William Milne was a successful business man before entering parliament, first in the House of Assembly and then in the Legislative Council, where he was President from 1873 to 1881. He was knighted in 1876 and died in 1895.
Eliza died on the 17 August 1912 in North Adelaide. She was buried in the West Terrace Cemetery after a service at Christ Church, North Adelaide on Monday 19 August 1912.
Miss Blanche Francis
When she died in 1934 the Advertiser printed this appreciation of her work.
There are few public memorials to women in Adelaide, but here and there one finds some work of beauty, part of the city itself, which is the unlettered monument of an artist craftswoman. Miss Blanche Francis, whose death was reported the other day, was a wood-carver whose work survives in many well-known buildings of Adelaide and country districts. Important commissions were entrusted to her, and she carried them out with great charm. Chalmers Church, North terrace, is enriched by several of them. 'The Burning Bush,' is a strong and impressive rendering of Old Testament imagery. The reredos in the beautiful Anglican Church at Strathalbyn is by her hand, and another commission was for the Adelaide Club.

It was peculiarly fitting that Miss Francis should be able to enrich some beautiful places with her handiwork, for she is a descendant of one who left Adelaide a garden to keep his memory green. Mr. G. A. Francis, her grandfather, planned the Botanic Garden, of which he was afterwards the first curator, and many generations of tree lovers have been grateful to him. He it was who planted those tiny old-fashioned red roses which still bloom valiantly in the borders, in spite of the ill-concealed contempt of your true rosarian. The great trees and the gracious design of the gardens are his legacy to Adelaide.

"Advertiser", Tuesday 23 January 1934, page 14