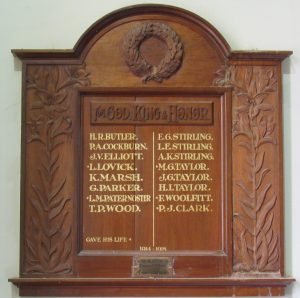 The Honour Board, which is installed over the vestry door, is the work of Blanche Francis who was responsible for the carved wooden reredos in the Sanctuary. Miss Francis was responsible for quite a number of Honour Boards around the State and we are fortunate to have two examples of her work in the church.
The board was the gift of Sir Lancelot and Lady Stirling whose three sons are included amongst those being remembered.
We Remember:
Private Harry Ronald Butler, 6th Field Ambulance
Born in Port Pirie, Harry was a clerk who enlisted on 31 August 1915 when he was 22. At the time his mother, Mrs Lillian Muriel Butler lived in Strathalbyn. He saw service in France and returned to Australia on 18 February 1919.
Private Piers Alexander Cockburn, 50th Battalion
Born in North Adelaide, Piers was a 40 year old farmer when he enlisted on 7 March 1917. He had sold his farm and his wife, Faith Julia and their four children went to live in Largs Bay. He had been an active member of the Strathalbyn Rifle Club and the Agricultural Bureau. He saw action in France but suffered ill-health and was deemed "Medically Unfit" when he returned to Adelaide on 25 January 1919.
J. V. Elliott
Jack Verton Elliott was born in Strathalbyn on 4 March 1892. The son of Joseph William Elliott and his second wife, Matilda (née Robinson). His father was well-known in Strathalbyn as the proprietor of the "Southern Argus", a keen musician and a long-serving Mayor of Strathalbyn. Before enlisting in the Navy in November 1911 Jack Elliott had been employed by the Municipal Tramway Trust in Adelaide while studying subjects for a diploma in Electrical Engineering. At the same time he was a Naval Cadet and did well in a rifle competition.
According to an article  in the "Southern Argus" he had joined the fledgling Australian Navy in order to pursue his interest in electricity and wireless, "He has from childhood been keenly interested in electrical studies, and at present does a good deal of experimental and research work, chiefly in connection with wireless telegraphy, with which branch he is most intimately connected in his duties."    "Southern Argus", Thursday 20 June 1912, page 2.
After serving a number of years at Williamstown, Victoria, from 29 May 1915 to 18 September 1916 Jack served on HMAS Encounter in the Pacific before returning to Australian waters. During this time he had advanced to Electrical Artificer Third Class and been awarded two Good Conduct Chevrons. On 31 October 1916 he joined HMAS Brisbane until completing his seven years' service on 3 September 1919.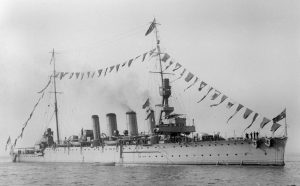 "On 13 December 1916 she [Brisbane] departed Sydney for war service in the Mediterranean, arriving at Malta on 4 February 1917. However, after a brief stay during which she took no part in operations, the ship was transferred to the Indian Ocean to assist in the hunt for the German commerce raiders Wolf and Seeadler. The transfer of a Sopwith Baby seaplane from the seaplane carrier HMS Raven (II) to Brisbane early in 1917 was the RAN's first involvement in naval aviation. When ordered to Australia in June 1917 the ship unfortunately had to give up the aircraft. She operated on patrol duty off the Western Australian coast until late September. Between October 1917 and January 1918 Brisbane served on patrol duty in the western Pacific, visiting the Solomon Islands, Nauru, Ocean Island, Tarawa (Gilbert Group) and Fiji. From February to October 1918 she served in Australian waters. On 30 October 1918 Brisbane departed Fremantle for England and was at sea en route Colombo to Aden when the Armistice of 11 November 1918 ended hostilities in World War I. She reached Mudros on Lemnos Island on 26 November 1918 and spent a month with the Australian Destroyer Flotilla in the Eastern Mediterranean, the Sea of Marmora and the Black Sea before completing her voyage to England. At Portsmouth Dockyard in January 1919 the ship commenced a refit lasting three months. Brisbane sailed from Portsmouth for Australia on 17 April 1919. Earlier in the year the British Admiralty had presented to Australia six 'J' Class submarines. Escorted by the light cruiser HMAS Sydney and the submarine depot ship HMAS Platypus, the submarines had left Portsmouth for Australia earlier in the month. Later Sydney detached. En route Brisbane assumed responsibility for the escort of HMA Submarine J5 and towed her for some of the voyage to Sydney. Proceeding ahead of Platypus and the other submarines, Brisbane and J5 arrived at Sydney on 27 June 1919."   http://www.navy.gov.au/hmas-brisbane-i
Jack Verton Elliott married Doris Russell Good at St Chad's , Fullerton SA on 14 October 1930. They had at least one son who was born 5 October 1932. In the 1930s and 1940s they were living at 15 Jenkins Avenue, Myrtle Bank, and in 1950 Jack was appointed as a Senior Technician in the Fourth Division, Engineering Branch of the P.M.G in Adelaide.
Doris died 19 August 1968. Jack died 6 August 1979 and was buried at Centennial Park, Pasadena SA.
Private Lawrence Lambert Lovick, 32nd Infantry Battalion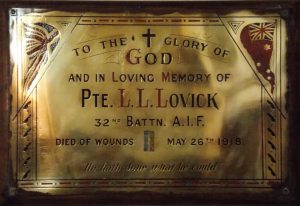 Born in Macclesfield, Lawrence was a 21 year old Draper's Assistant when he enlisted on 14 August 1916. His parents were Mr J. L. Lovick and Mrs Mary Lovick of Strathalbyn. He saw action in France from March 1917 but was hospitalised in June suffering from Gas poisoning. Returning again to the field,  he died from wounds received on 26 May 1918. At first he was buried at the Vaux-sur-Somme Communal Cemetery but later his remains were exhumed and re-interred at the Villers Brettoneux Military Cemetery.
Staff Sergeant Keith Marsh, No. 5 Sea Transport Section
Born in Orroroo in 1887, Keith was a pharmacist in Strathalbyn when he enlisted on 9 November 1915. His mother, Mrs Catherine Mary Marsh lived in Commercial Road. Because of his qualification as a chemist he was appointed to the Sea Transport nursing staff as a dispenser and made several voyages between Australia and England. He was discharged on 10 August 1919.
Company Sergeant Major George Edward Parker D.C.M., M.M., 15th Battalion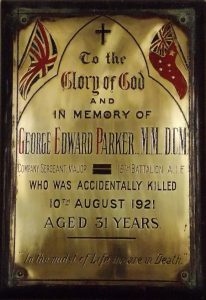 Born at Long Plain near Strathalbyn on 24 April 1890, the son of George W. H. and Elizabeth A. Parker, George enlisted on 10 July 1915 as a Private and saw action in France. He was promoted to Lance Corporal on 1 July 1916, Temporary Corporal on 19 August 1916 and Sergeant on 5 September 1916. During the battle of Pozieres he was awarded the Military Medal and later received gunshot wounds which necessitated hospitalization in England for two months. He returned to France and was wounded again in February 1917 which again resulted in a time in hospital in England. Once more in France he was promoted to Company Sergeant Major on 4 June 1917. He was awarded the Distinguished Conduct Medal in November 1917 for bravery and devotion to duty in operations near Zonnebeke in September. On the 25 January 1918 he joined "Dunsterforce" an Allied special mission in the Middle East but contracted typhus in July and was dangerously ill. After his recovery he returned to France and arrived back in Australia in July 1919.
He was not to enjoy a long life back in Strathalbyn. He died accidentally on 10 August 1921 when attempting to negotiate a fence with a loaded shotgun.
Sergeant Leslie Melville Paternoster, 11th Field Artillery Brigade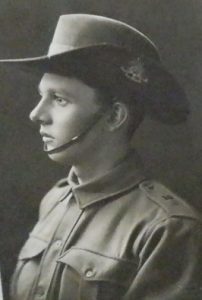 "Mr. and Mrs. H. G. Paternoster, of Salisbury, have received information that their eldest son, Sgt. Leslie Melville Paternoster, has died from the effects of wounds received in France on April 26. The deceased soldier, who was 23 years of age, was a native of Salisbury, where he was exceedingly popular. He received his primary education at the local school, which was followed by a three-years' business course at Muirden College. On completion of this course he received the award of the Old Scholars' Association for the most popular boy in the school. On leaving college he obtained a position in the firm of Messrs. Elder, Smith, & Co.in
Adelaide, and a year later r
eceived a promotion to the firm's branch at Kapunda. In August, 1913, the firm transferred him to a more responsible position at Strathalbyn. He enlisted from Strathalbyn in August, 1915, and two months later, left with the 11th Reinforcement to the 10th Battalion. He was afterwards transferred to the Field Artillery Brigade for service in France, where he quickly received promotion as a reward for gallantry." The Register, 11th May 1918

Captain Chaplain, the Rev. Tom Percy Wood, 7th Regiment, 2nd Brigade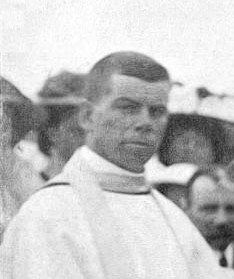 Percy Wood had been Rector of Strathalbyn since 1910.
"When, the war broke out, Mr. Wood, having a wife and four small children, did not at first see his way clear to enlisting, but when in 1915 he learnt that there was a dearth of chaplains, he at once offered his services, and was given a commission, first as a Transport Chaplain, and the following year for continuous service.
"As Chaplain to the Forces, he saw considerable active service on several fronts, and was mentioned in dispatches for gallant and distinguished services in the field. He was disabled and discharged as medically unfit for further active military service in 1917. "
Click here for more information
Lieutenant Edward Guy Stirling, Grenadier Guards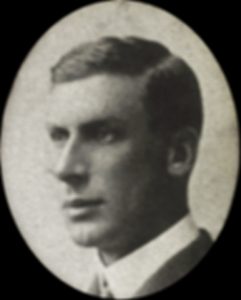 Edward Guy Stirling was the eldest son of Sir Lancelot Stirling and his wife Florence. He died at Victor Harbor on the 22 August 1945 after a short illness.
"He was a qualified architect, and served with the Grenadier Guards in the first world war. He came to Australia after the war, and was recognised as one of the outstanding country golfers in the State. He had few equals in Australia as a putter. The late Mr. Stirling built a house about five years ago at Victor Harbor on the Hayborough estate, and lived in retirement. He was single."  "The Advertiser", Thursday 23 Aug 1945, page 6.
Lieutenant Lancelot Eric Stirling, 1st Remount Unit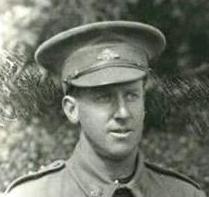 Lancelot Eric Stirling was born on 12 September 1885, the second son of Sir Lancelot and Lady Stirling.
He was educated at St Peter's College and when he enlisted gave his employment as "horse breeder and sheep farmer.
He married Clarace Myrtle Jackson on the 22 February 1917 at St Andrew's, Strathalbyn.    "Southern Argus", Thursday 22 Mar 1917, Page 2.
Trooper Archibald Keith Stirling, 3rd Light Horse Regiment 1914-1915, 2nd Lieutenant Royal Field Artillery 1915
Archibald Keith Stirling was born on 22 September 1890, the third son of Sir Lancelot and Lady Stirling. When he enlisted he was employed as a Station Overseer. He died at Angaston on 26 April 1954.
Corporal Murray Gleeson Taylor, 9th Light Horse Regiment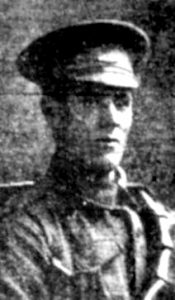 Murra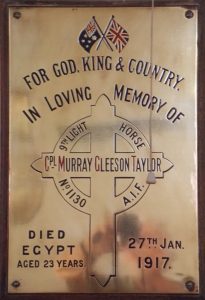 y enlisted in April 1915 at Keswick and after serving at Gallipoli and in Egypt died of Pneumonia in Egypt on 27 January 1917.
"Mr. and Mrs. C. L. Taylor, of the National Bank, Strathalbyn, have received news that their youngest son. Corporal Murray Gleeson Taylor, died at Cairo from pneumonia. He was born at Strathalbyn. In April, 1915, he joined the 9th Light Horse as a private. He sailed for Egypt in August of that year, served on Gallipoli, and was there at the evacuation, when he returned to Egypt, andserved continuously until the time of his illness. He took part in the Romani battle, and was afterwards promoted to the rank of corporal. His brother, Jack, is also in the Light Horse."    "Chronicle", Sat 17 Feb 1917, page 45.
Private Jack Gleeson Taylor, 3rd Light Horse Regiment
Jack enlisted in July 1916 and arrived in Suez in February 1917 and soon after was dangerously ill with pleurisy. In September 1918 he was discharged from the Light Horse and transferred to the 1st Australian Flying Corps as an Aircraft Mechanic. He would return to hospital quite a few times and was eventually discharged as medically unfit in May 1919.
Lieutenant Henry Illingworth Taylor, 43rd Battalion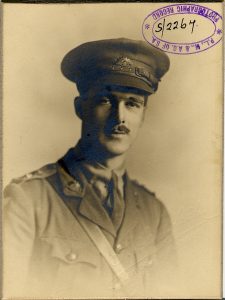 Henry Illingworth Taylor was born in Daylesford, Victoria on 21 July 1889, the youngest son of Norman Taylor and his wife Emma Sarah (nee Woodruff). His father was a skilled artist, geologist and botanist who had been employed by the Victorian Government. His father died on 22 June 1894 and his mother came to live in North Adelaide.
Henry was a Bank Accountant with the National Bank when he enlisted in August 1915 and on the 9th December 1915 he married Dorothy Sarah Kingsnorth Mallyon in St Paul's Church, Port Pirie. The bride's father, William Kingsnorth Mallyon was the manager of the Port Pirie branch of the National Bank and the church there was also designed by him, one of twenty-nine churches he designed, mostly in the mid-north of the State.
Henry and Dorothy had one son who was born towards the end of 1916 and Dorothy subsequently died at her home in Walkerville on 31 October 1916. The baby was then looked after by his maternal grandmother, Susan Mallyon until her death on 28 May 1918 after learning that her younger son Alfred Kingsnorth Mallyon had been killed in action in France on 3 May 1918.
Henry Taylor also saw service in France and was wounded in August 1917. A more serious problem was that he was becoming very deaf and feared that he would find it difficult to return to his previous employment. He therefore applied for a discharge in July 1918 so that he could return to Australia, find employment and look after his twenty-two months old son.
Lance Corporal Frederick Norman Maurice Woolfitt, M.M., 50th Battalion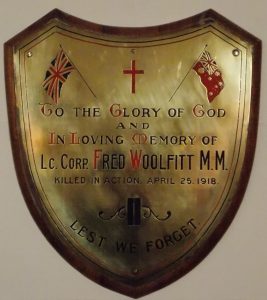 A 23 year old farmer prior to enlisting on 7 March 1916, he embarked for overseas as a Private with the 3rd Reinforcements for the 50th Battalion from Adelaide on 13 July 1916 aboard HMAT Seang Bee. Following further training in England, he joined the 50th Battalion in France on 7 February 1917 and was wounded in action at Noreuil on 2 April. Despite his wounds he carried on fighting and was awarded a Military Medal for his bravery.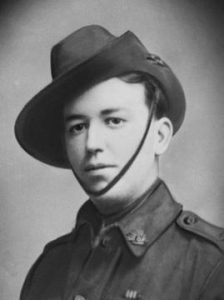 After being evacuated to England for medical treatment, he recovered and rejoined the battalion at the end of August 1917. He was wounded in action on the second occasion at Westhoek Ridge, Belgium on 29 September 1917. Two months later, he rejoined the battalion and was promoted to Lance Corporal on 17 January 1918. Lance Corporal Woolfitt, MM was killed in action at Villers-Bretonneux, France on 25 April 1918 and buried in the Adelaide Cemetery at Villers-Bretonneux.
Private Percy Joseph Clark, 32nd Battalion, A.i.F.
Percy
Clark was born at Sandy Grove and was a 30 year old farmer when he enlisted on 2 November 1916. He embarked on the "Berrima" on 16 December and arrived in Devonport, England on 16 February 1917.
He was admitted to the Fovant Military Hospital with Bronchitis on 25 February and died on the 14 March.
He was buried with full Military Honours on 17 March at St Edith's Church, Bavenstock on Salisbury Plain.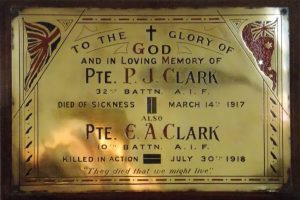 Private Eardley Austin Clark, 10th Battalion, AIF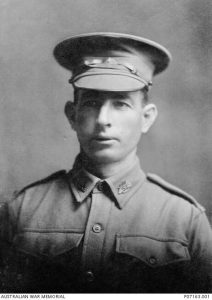 Percy's brother, Eardley enlisted on 26 October 1916. He had been born in Blanchetown and was a 35 year old miner. He was married to Hilda Elsie (nee Hopegood) and they had five children. He sailed for England at the same time as his brother on the "Berrima".
After arriving in England he went the the Third Training Battalion in Durrington on the Salisbury Plain on 18 February 1917 and would remain there, except for a short stay at nearby Fargo Hospital, until proceeding to France on 3 May.
He was wounded in action on 8 October, suffering gun shot wounds to the face but returned to his unit at the end of the month.
No doubt because of his experience as a miner Eardley  was detached for duty with 177 Tunnelling Company during January 1918. He was on leave in the U.K. before being detached again for duty with 184 Tunnelling Company on 10 March 1918.
The tunnelling units were occupied in offensive and defensive mining involving the placing and maintaining of mines under enemy lines, as well as other underground work such as the construction of deep dugouts for troop accommodation, the digging of subways, saps (a narrow trench dug to approach enemy trenches), cable trenches and underground chambers for signals and medical services.  (Wikipedia)
He returned to duty with his unit on 5 April until 30 July when he was reported "Missing in Action". At a subsequent Court of Enquiry the following account was given by Corporal R. H. F. Jones of Eardley's disappearance:
"No. 6986, Pte Clark E. A. was a member of No. 16 platoon "D" Coy and he was in my section. On the night of 30th July 1918, No. 16 platoon was in a strong post in front line and on the extreme left of the Battalion. Pte Clark had permission to return to a vacated post in rear, for the purpose of obtaining his haversack which he had left behind, when the platoon moved forward, towards MERRIS. He left my section at about 11.45 p.m. on 30th July 1918 for this purpose, and I have not seen him since. The enemy occupied a post about 50 yards to our right front, and a few minutes after Pte Clark had left my section, I heard what I considered to be a German bomb explode in "No Mans Land" and in front of the enemy post. Immediately following the explosion I heard somebody cry out. No search was made, as the Battalion was timed to attack MERRIS at 12.15 a.m. on the 31st July 1918. My Platoon advanced to a distance of about 200 to 250 yards and nothing was seen of Pte Clark. At dawn on the 31st July "Moppers up" covered all the ground over which we had advanced and Pte Clark was not seen."
On the 20 February 1919 the Court of Enquiry determined that Pte E. A. Clark had been "Killed in Action".