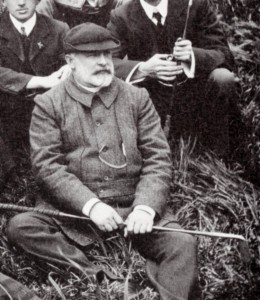 Humphrey Herbert Wyllie was born in Fremington, Devon on the 24 June 1857 and baptized there on the 8 August 1857. He was the son of Colonel Robert Wyllie (1807-1872), a Scotsman who served with the "Honorable East India Company", and his second wife, Catherine Maria, née Jones (1820-1888). Colonel Wyllie served as military secretary to the Governor-General of India, the Marquess of Dalhousie.
In the 1861 Census it is recorded that Robert had retired with the rank of Lt Colonel and the family were living in Weston Super Mare in Somerset, England. At this time there were ten children, five sons and five daughters, aged from sixteen to new-born.
At the time of the next Census in 1871 it is recorded that Humphrey and his brother William (b. 1861) were both pupils at the St Clere Collegiate School at Ightham in Kent.
Although he came from a family with a strong military tradition it is said that Humphrey started his working life as a tea planter in India.
Ordination and Marriage in Canada
Then in 1881 he was in Canada studying Divinity at Huron College in London, Ontario. He was made Deacon in 1881 and ordained Priest in 1882 by the Bishop of Huron.
Also in 1882 he married Philippa Wymond Walkem (c1854-1923), the daughter of Charles Walkem (1805-1883) who was a surveyor and draftsman with the Royal Marines and his wife Mary Ann née Boomer, whose brother was the Very Rev'd Michael Boomer, the Principal of Huron College and the Dean of the Cathedral. Two of Philippa's brothers were eminent Canadian lawyers; Dr Richard Thomas Walkem who was also a university Professor of Equity and the Hon. George Anthony Walkem who was at one time Premier of British Columbia.
After serving as the Curate at Christ Church, Dresden and Incumbent of St George, Clarksburg, both in the Diocese of Huron, Humphrey moved to Lower Bowden in the Diocese of Peterborough in England before being appointed as Incumbent of St Columb, Lonmay in the Scottish Diocese of Aberdeen where he served from 1886 to 1891. In the 1891 Census there are three daughters listed: Hilda (b. 1885), Eileen (b. 1886) and Mona (b. 1888).
Arrival in South Australia
In September 1891 the family arrived in Renmark, South Australia where Humphrey was appointed priest in charge of the Mission District. They spent seven years in Renmark and were joined there by two of Humphrey's brothers, Frank Saville Wyllie (1861-1927) and William Valentine Wyllie (1860-1939) who became well-known residents in the district.
Humphrey Wyllie was fondly remembered as "Parson" Wyllie in Renmark. "On his arrival in the town he threw himself whole-heartedly into the life of the place and took a deep interest in almost every movement that benefitted the people. He was particularly good to those who were in less fortunate circumstances and his extremely kind and happy disposition made him loved and trusted by all." (Murray Pioneer and Australian River Record, Friday 4 November 1921)
Mrs Wyllie was remembered as "the possessor of a pleasant contralto voice, as well as being a good accompanist on the piano" who "organized many concerts in the little church of England which used to be situated at the end of the Bookmark channel." (Murray Pioneer and Australian River Record, Friday 29 June 1923)
Rector of Strathalbyn
After leaving Renmark Humphrey Wyllie was locum tenens at St Cuthbert's, Prospect for one year before his appointment on the 28 August 1899 as Rector of Strathalbyn with Macclesfield, Bugle Ranges, Langhorne's Bridge, Milang and Queen's Own Town.
He came to the parish with a reputation for being a "genial natured person and a lover of manly sports". He was a member of the Strathalbyn Golf Club and his picture (above) is taken from a group photo of the Club team taken in 1906.
During his time in Strathalbyn there were a number of important developments in the life of the parish. The apse was added to the east end of the church in memory of the Rev'd William Bussell's mother and sister and dedicated in April 1903. In October of the same year Christ Church was consecrated by the Bishop of Adelaide, the Right Reverend John Reginald Harmer. Also at about this time the old Primitive Methodist Chapel was bought for use as a hall.
Mr Wyllie left Strathalbyn in June 1909 take become the Rector of St Peter Robe with Holy Trinity Kingston where he remained until his death on the 22 October 1921. His wife Philippa died on the 23 June 1923 and they were both buried in the North Road cemetery in Adelaide.
In 1928 the following memorial plaque was placed on the sanctuary arch in Christ Church, Strathalbyn.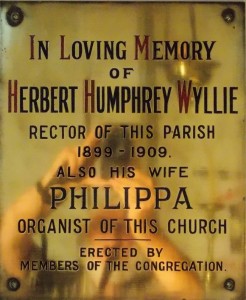 Humphrey and Philippa Wyllie had four daughters:
Hilda b. 1885, Mrs E. O. Gooden, Norwood;
Eileen Philippa b. 1886, Mrs Jack Ogilvy, Renmark;
Mona Irene b. 1888, Mrs Roy Philips, Renmark;
Greta b. 1897, Mrs Jack Hocking, Murray Bridge.