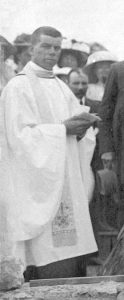 Percy Wood's father, the Rev'd Thomas Wood served in the Diocese of Manchester and as a Chaplain on the Madras Railway in India before coming to Adelaide in 1884. He then was Incumbent in the parishes of Robe and Kingston, Wallaroo and Kadina and finally Willunga. Thomas Wood died in 1937.
Percy Wood married Fannie Newbury on the 28 June 1905. He was made a Deacon in 1902 and ordained Priest in 1904.
He was a keen tennis player and water-colour artist who was involved in many community activities but especially the R.S.L. following W.W.1., To whom we owe the following appreciation:
"The Rev. T. P. Wood, of Strathalbyn, has been elected as successor to Mr. W. K. Montgomery (who has been transferred to Melbourne) as State Representative of the League [the R.S.L.].
"Referring to the appointment, 'The Diggers' Gazette' says:— 'The new State representative on the Federal Executive, the Rev. T Percy Wood. Rector of Christ Church, Strathalbyn, is a native of Blackburn, Lancashire, England.
"His infancy was spent in India. Coming to South Australia with his parents while yet a child, he received his education at St. Peter's College, Adelaide.
"On leaving that institution, he took up the profession of mining, and worked for two years underground as a practical miner in the Wallaroo and Moonta copper mines, living the life of a miner. At the same time he took up a course of study as a mine surveyor, attending the evening classes in the Moonta School of Mines.
"Owing largely to a warm friendship with Dr. Harmer, then Bishop of Adelaide, Mr. Wood threw up his mining career and entered St. Barnabas' Theological College, Adelaide. Mr. Wood's first work as an ordained man was at Goodwood, where he assisted Canon Wise at the time the present Church of St. George was built.
"In 1910 he accepted his present charge, Strathalbyn, and has been there ever since. When, the war broke out, Mr. Wood, having a wife and four small children, did not at first see his way clear to enlisting, but when in 1915 he learnt that there was a dearth of chaplains, he at once offered his services, and was given a commission, first as a Transport Chaplain, and the following year for continuous service.
"As Chaplain to the Forces, he saw considerable active service on several fronts, and was mentioned in dispatches for gallant and distinguished services in the field. He was disabled and discharged as medically unfit for further active military service in 1917.
"On his return to civil life, Mr. Wood's interest in the Digger did not cease. As President of the Strathalbyn Sub-Branch of the League since its formation two years ago, Chairman of the District Committee while it lasted, delegate to the Sub-Branch Conference, and State Councillor for the electorate of Alexandra, he has done valuable work for the League.
"Along with the Hon. Sir Lancelot Stirling, Mr. Wood was appointed by the Government on the Executive of the Strathalbyn Repatriation Committee ; and he is a member of the local Soldiers' Memorial Committee, and Hon. Chaplain to the Australian Military Forces.'"
"Southern Argus",Thursday 17 March 1921, page 4.