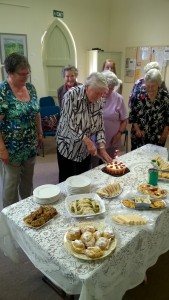 At the MU meeting on November 10th 2015 President Eileen Smith lead a Wave of Prayer service when members remembered the MU members in five Dioceses around the world that the MU in this Diocese is linked with. 
Nell Endersby told us about the Diocese of Lui in South Sudan which has 53,290 MU members; Jan Payne included thanks for the work the members in Embu in Kenya take part in;  Pat Mold asked for prayers for Orlu in Nigeria where there is still a threat from Boko Haram to Christians in the region;  Margaret Shoesmith told us about the tribe in Awori in Nigeria who are friendly and welcoming people;  Jeanne Merchant welcomed news from the women of Medak in India where members of MU are known as Women's Fellowship of Christian Service;  and Beryl Merrick gave thanks for the Bishop and members of the MU in The Murray Diocese.
During the afternoon meeting congratulations were made to Phyll Schneider who celebrates her 90th birthday this month.  At afternoon tea she cut a birthday cake while members sang Happy Birthday.