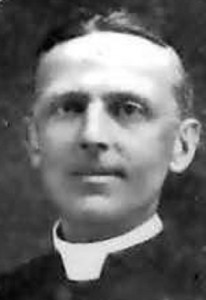 Alfred Wheeler was born in Stoke Newington, London (8 km NE of Charing Cross) on the 27 October 1865, the son of Elijah Wheeler, a bedding manufacturer, and his wife Harriet Elizabeth née Priest. In an interview published in the "News" in 1928 it was stated that he was proud of the fact that he was a "Cockney".
He was educated at the Stamford Hill Grammar School and the City of London School which at that time was situated in new buildings on the Victoria Embankment. From there he was admitted as a pensioner (fee-paying student) at St John's College, Cambridge in 1885.
While a student at Cambridge University, he sang bass in Dr Garrett's choir at St John's College, he was one of the second violins in the University Orchestra conducted by Dr. Villiers Stanford, and an active member of the Mozart Club, conducted by Dr. A. H.Mann, the organist of King's College.
He graduated B.A. In 1888 and was ordained Deacon by the Bishop of Durham, the Right Reverend J. B. Lightfoot (one of the great Biblical scholars of his time) on 21 September 1890. He then served as Curate in the parish of St James, West Hartlepool in the Diocese of Durham in 1890-91 but by December 1891 he had arrived in Adelaide and was sent by the Bishop to the South-East Mission at Penola and then to Naracoorte where he became Priest-in-charge after his ordination by Bishop George Kennion on the 11 June 1892.
Marriage to Fanny Polhill
On 19 April 1892 he married Fanny Cynthia Polhill at Christ Church, Yankalilla in a ceremony performed by the Rector, Archdeacon C. W. Morse. Fanny was the daughter of Edward Polhill (c1830-1874) and Catherine Stuart née Henderson (c1836-1876). She was born on 2 November 1867 and for many years had taught in the Christ Church Day School at Yankalilla. As an expression of their love the Church people gave her "a set of table knives and silver forks and spoons, with knife basket complete". The past and present scholars of the School gave her "a most beautiful butter-dish of frosted silver"
Rector of Strathalbyn
The newly-weds would only live in Naracoorte for two years before Alfred was appointed as Incumbent of Strathalbyn and Macclesfield on 28 October 1895. He was also the Priest -in-charge of the associated Mission District which included Bugle Ranges, Langhorne's Bridge, Meningie and Queen's Own Town (Finniss).
The Wheelers' only child Cynthia Fane was born in Strathalbyn on 24 August 1897. She would later marry the Reverend Charles Murray, at one time Rector of Christ Church, North Adelaide who was the Bishop of Riverina from 1943-1950.
The Rector's musical talents had been evident in Naracoorte where he conducted a Philharmonic Society of fifty voices and in Strathalbyn he formed the Strathalbyn Choral Union. The church choir also flourished during his incumbency. At occasional special festivals some of his own compositions were sung.
He was an energetic pastor and administrator and in March 1896 coloured glass replaced the clear glass of the original windows and in 1897 the permanent vestry was built. Also in December 1897 during a Vice-Regal visit, Lady Victoria Buxton spoke at a meeting in the Institute, chaired by the Rector, which had been called for the purpose of establishing a branch of the Mothers' Union.
Ministry in Melbourne and Geelong
Alfred Wheeler's musical talents led to his resignation as Rector in order to take up his appointment in July 1899 as Precentor and a Minor Canon of St. Paul's Cathedral, Melbourne. After nine years there he became Incumbent of All Saints' Geelong in December 1908 where he remained until his retirement in 1937.
Although spanning the time of WW1 and the great depression, Alfred Wheeler was tireless in his ministry and his care for the people and the buildings of the parish. He also continued to actively promote the church's music, directing the choir with up to thirty boy sopranos and composing songs, anthems and other music.
He was Rural Dean of Geelong 1909-1937, Canon of St Paul's Cathedral Melbourne 1914-1937 (1937 canon emeritus) and director of the Australasian Performing Rights Association 1939-1942. He died on 28 Mar 1949 at Geelong, His wife Fanny having predeceased him 19 Oct 1947.
His Music
"Canon Wheeler was one of the most successful and prolific Australian composers. His works covered a wide range from anthems, part songs, children's cantatas, and school and patriotic songs." The News  Tuesday 29 March 1949. 
There are sixteen of his compositions listed by the National Library of Australia, including the comic "Old Mother Hubbard" and "Mary had a little lamb" and the anthem "Loving shepherd lead me".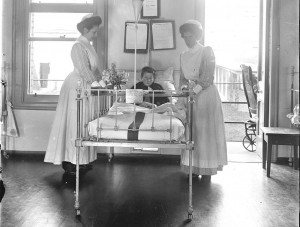 This photo from about 1906 shows a little boy in pajamas and dressing gown sitting up in hospital bed, nurses, wearing ankle length uniform with apron and cap, on each side of bed. A plaque on the end of the bed reads: "Rose of Joy Cot /​ Presented by Pupils of /​ S.S. 1697 Harkaway. This cot is maintained by funds derived from sale and rendering of the Rose of Joy cantata written by Miss A. R. Rintoul, composed by Rev. Alfred Wheeler."