In Bishop Augustus Short's report to the Adelaide Synod in May 1872 he was able to report some good news from Strathalbyn. "It is gratifying to me to be able to report the completion of a spacious church at Strathalbyn, to which the Rev. F. Slaney Poole was unanimously invited by the congregation. It forms the head station of a large mission district, comprising Wellington, Langhorne Creek, and the Lake Plains. I am thankful that this widely-settled agricultural district, as well as the important town of Strathalbyn, have been placed under the charge of an energetic and capable minister."
The foundation stone of Christ Church, Strathalbyn had been laid on the 25 February 1870 by Lady Edith Fergusson, the wife of the Governor but sadly she was not present when the church was opened on Thursday 29 October 1871. She had died just a few days before, aged only 32, and her funeral was held on the same day as the church was opened.
The Rev'd Frederick Slaney Poole was born on the 9 July 1845 at Maidstone, Kent, the second son of Thomas Slaney Poole, an engraver, and his second wife Elizabeth Martha (née Noyes). Educated at Manchester Free Grammar School, in 1863 Frederick won an exhibition and a sizarship (financial assistance) to St John's College, Cambridge. After graduating B.A. in 1866 he taught Greek and Latin at Stockport Grammar School before coming to South Australia.
From 1867 to 1868 he was employed as a teacher at the Poonindie Mission near Port Lincoln during the time that the Rev'd Dr Octavious Hammond was the Superintendent.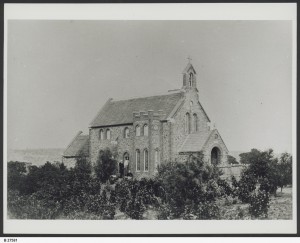 He was made a Deacon by Bishop Short on the 11 June 1868 and was appointed as the Officiating Minister at Robe. On the 21 December 1869 he was ordained Priest in Christ Church, North Adelaide, one of two Deacons and five Priests ordained on that occasion and continued at Robe as the Incumbent (Rector) until 1870. In 1870 he went from Robe to take charge of MacDonnell Bay, Penola and the school at Mount Gambier.
Before taking up his appointment in Strathalbyn, Slaney Poole travelled to England, where on the 26 August 1871 he married Rebecca Scott. They arrived back in Adelaide on the "St Vincent" in November and he began his ministry as Incumbent of Strathalbyn with Wellington and Langhorne's Creek on the 29 December 1871. At this time there was no official Rectory and the Pooles lived at "Boundary Place" in North Parade.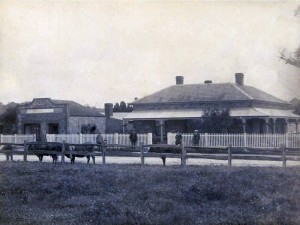 On 12 January 1872 Slaney Poole advertised the plan of services for the next three months in the "Southern Argus":
1st Sunday in Month—Wellington; morning, 11 o'clock; evening, 6 o'clock.
2nd Sunday—Strathalbyn; morning, 11 o'clock. Mr Steer's, Lake Plains, 3 o'clock. Langhorne's Creek, 6 o'clock
3rd Sunday—Strathalbyn; morning, 11 o'clock; evening, 6 o'clock.
4th Sunday—Langhorne's Creek; morning, 11 o'clock. Mr Steer's, Lake Plains, 3 o'clock. Strathalbyn, 6 o'clock.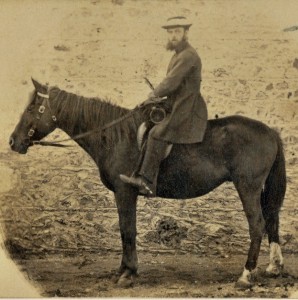 He also found time for other activities. In 1872 he formed a Latin Class and advertised in the "Southern Argus" on 6 September that he "would be glad to receive the names of any additional pupils". In 1874 he was the Honorary Secretary of the Strathalbyn Institute.
On the 3 July 1873 their first son, Thomas Slaney Poole was born at Strathalbyn and the new font presented by Mr W. L. Marchant was used for the first time at his baptism.
Frederick Slaney Poole left Strathalbyn in 1874 to become the Incumbent of St John's, Halifax Street, Adelaide where he remained until 1895. He was the Vicar of St Peter's, Ballarat, Victoria from 1895-1899 then returned to Adelaide where he continued in active ministry until 1911 when he retired because of his extreme deafness. He died on 28 June 1936.