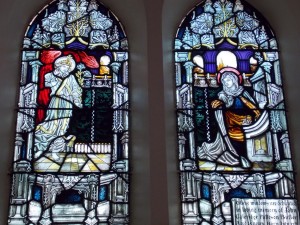 The east windows which were installed in Christ Church, Strathalbyn in 1912 depict the Annunciation, the coming of the Angel Gabriel to announce to the young Mary that she was to have a baby "who would be called Son of God" (Luke 1: 26-38).
They formed the second memorial in the church to John Coleridge Patteson Butler who died unexpectedly on the 1st August 1911, aged 25 years.
A memorial tablet had previously been unveiled in his memory on Sunday 10th December 1911.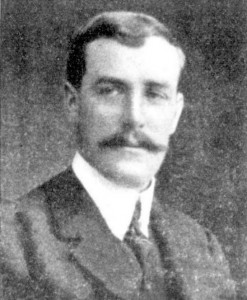 J. C. P. Butler was the son of the Hon. Richard Layton Butler M.P. and grandson of the Hon. Richard Butler who was briefly Premier of South Australia in 1905. His father would later serve two terms as Premier.
At the time of his death he was the Strathalbyn manager of the family firm, R. Butler & Sons Ltd and a keen horseman, playing polo and competing in Adelaide Hunt Club events.
He had caught a chill when practising for the Point-to-Point Steeplechase which turned to pneumonia when he insisted on attending a stock sale in Murray Bridge. His condition grew rapidly worse and he never recovered.
The windows were unveiled at the 11.00 am Morning Service on Sunday 22nd September by Bishop Cecil Wilson, who at that time was Rector of St Andrew's, Walkerville and Archdeacon of Adelaide.
This provided a curious coincidence because prior to coming to Adelaide, Bishop Wilson had served for seventeen years as the third Bishop of Melanesia in the Pacific. The young man being remembered had been named after a family friend, Bishop John Coleridge Patteson, who was the first Bishop of Melanesia. Bishop Patteson was a great hero of the Church in the Pacific who died a martyr's death on the 20th September 1871.
The windows were made by the South Australian firm of H. L. Vosz under the supervision of J. F. Williams who may also have been responsible for the design. From 1915 the firm continued under the name Clarkson Ltd and continued to produce leadlight windows until the 1960s.