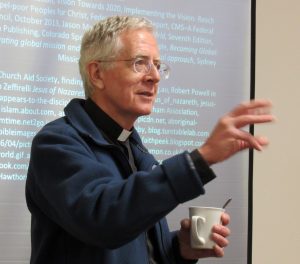 On Sunday 10th July we welcomed the Rev'd Martin Bleby to our 10.00 am Eucharist at Christ Church, together with his wife Vivien.
During the service he preached on the day's Gospel reading from Luke chapter 10 which tells the story of the lawyer who came to test Jesus, asking "Teacher what must I do to inherit eternal life.
Following the service, over a mug of soup, he spoke about the work of the Church Missionary Society and the importance of the Mission of the Church.
Martin is no stranger to Christ Church as he spent his first five years here when his father, The Rev'd John Bleby was Rector.