The following news item appeared in the pages of The Mount Barker Courier and Onkaparinga and Gumeracha Advertiser on the 17th December 1897.
"The Governor and Lady Victoria Buxton being on a visit to Strathalbyn, the opportunity was taken of asking her ladyship to attend a meeting in the institute on Monday afternoon for the purpose of establishing a branch of the Mothers' Union. Although only a few hours' notice had been given a fair number of ladies attended the meeting, and the Rev. A. Wheeler, the incumbent of Christ Church, presided. Lady Victoria Buxton gave a touching address on the objects and work of the society, remarking that although the society was worked on church lines that was not a barrier to any mother joining the union."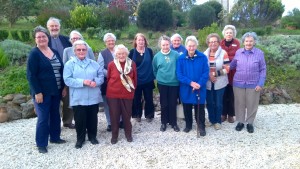 The Strathalbyn branch of the Mothers' Union continues to meet regularly and the members celebrated their 117th birthday on Tuesday 12th May with a service of Holy Communion in Christ Church when new members Barbara Wilson and Patricia Mold were welcomed. They then enjoyed afternoon tea in Jocelyn Williamson's garden at Meadows.