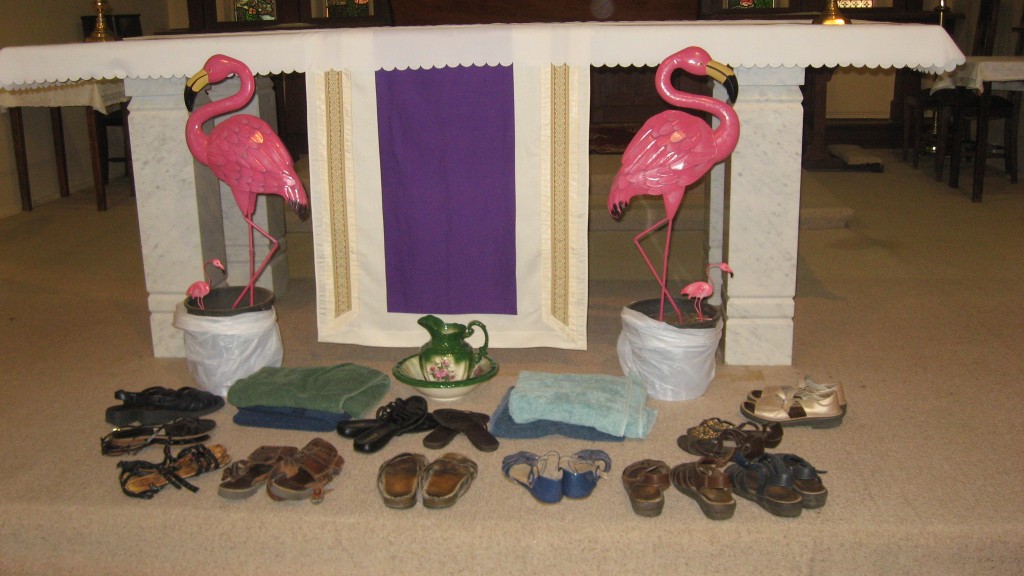 This year's World Day of Prayer service was held on Friday 6th March in the Strathalbyn Catholic Church and hosted by the Anglican ladies. About fifty people took part, representing the Uniting Church, Church of Christ and the Lutheran, Catholic, Baptist and Anglican churches.
Jan Payne welcomed everyone and led the service. Expanding on the theme, "Do you know what I have done to you?" a bowl, jug, towels and twelve pairs of sandals were placed near the altar (see above). Because the national bird of the Bahamas is the Flamingo, two large birds were also part of the display.
A DVD showed many aspects of life and the scenery in the islands.
The guest speaker, Eileen Smith from the Anglican Church spoke of the hidden poverty and the hardships which exist in the apparent paradise. She then described the radical way in which Jesus showed his love to the disciples.
The amazing amount of $401.00 was raised for ongoing work in various centres.
Following the service those present shared in the fellowship of a cuppa and a chat and thus concluded a night which also provided plenty of food for thought.
Many thanks to the Catholic ladies for all their help with the change of venue made necessary by the renovating at the Anglican Church.