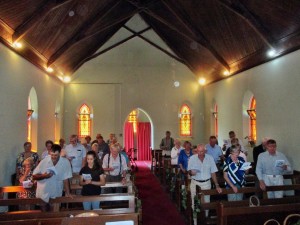 Sunday 31 January was a lovely day and a happy group of parishioners from all parts of the parish gathered at St John's Langhorne Creek to celebrate our Harvest Festival. We sang some of our old favourite harvest hymns and admired the splendid array of gifts which were arranged at the front of the church.
Following the service we went on to Barry Potts' place for a shared lunch, great conversation and the auction of some of the more perishable gifts.
At this time of the year the harvest of cereal crops is complete and the paddocks are littered with bales but the grape harvest is just beginning, an important time for folk in Langhorne Creek.